What I wish I did differently: blogging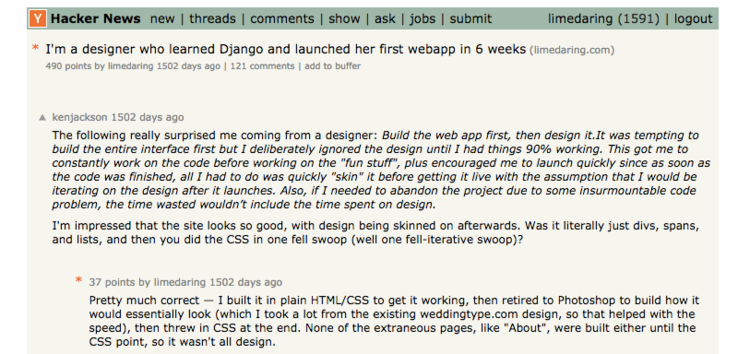 Some of the biggest wins in my life have been tied to blogging and writing down my experiences. For a long time, I known as the "Hacker News wedding person" after my articles about trying to find a cofounder and teaching myself to code reached the top of the popular hacker social network.
The article about finding a cofounder introduced me to a lot of amazing people in the Bay Area as I "interviewed" potential cofounders. Quite a few of these relationships have stayed with me to this day.
When I applied for 500 Startups, Paul Singh (no longer with 500) said he accepted me into 500 because he saw my articles and that I was a "cockroach" who "would never die."
Blogging for WeddingLovely, too, has been a good thing — keeping the users and vendors up to date with what I was working on made WeddingLovely feel smaller, more personal, compared to the wedding giants.
Alas, blogging is easy when you're sharing wins and positive information — blogging is hard when you feel like you're failing. This is the number one reason why I have been writing so sporatically over the last few years — I wanted to save my posts for when I had something good to share. I felt like my startup is failing, but I didn't want to let others be aware of that fact as well (Indeed, it still astonishes me when I see someone whom I haven't talked to in awhile, and they say, "Wow, you're killing it!" when I feel like I'm doing the complete opposite.)
I've finally reached the point where I feel (semi-)comfortable talking about my personal failings and where I wish I did better, because a) I need to blog more in general, even if it's not awesome self-promote-y news, and b) I need help. I spend a lot of time thinking about what I wish I did differently, and I hope that these posts help others in my situation not feel like they're alone!
Additional posts on this topic: